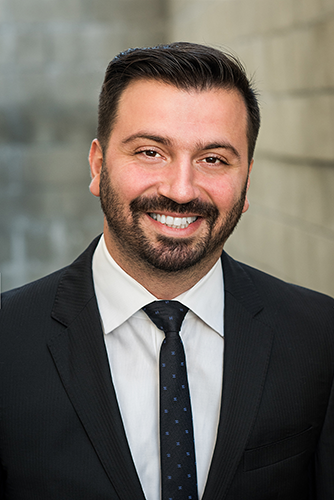 Nazo Koulloukian is a legal strategist for the employee. He is the founder of Koul Law Firm and represents California employees in all labor and employment matters in State and Federal Court.
Nazo has been recognized as a Rising Star – Super Lawyer by his peers in 2016, representing the top 2.5% of Labor and Employment attorneys.
Nazo specializes in wrongful termination, harassment, discrimination, retaliation, whistle-blower, and wage and hour cases. He has handled hundreds of labor and employment matters, both individually and on a class action basis, and has obtained million of dollars against a wide variety of employers across a broad range of industries including Fortune 500 companies, retail stores, hospitals, school districts, security companies, health and fitness clubs, restaurants, medical facilities, government entities, and manufacturers.
Prior to becoming a Plaintiff's attorney, Nazo was a defense attorney for a civil litigation firm, where he represented and counseled employers and handled personal injury cases.
Nazo's extensive labor and employment experience includes representing employees in wrongful termination, harassment, discrimination, negligence, and intentional tort claims, as well as class action wage/hour, reimbursement, and union grievances. He has counseled employers with respect to current employment practices, including human resource policies, wage and hour compliance, and litigation avoidance, and assisted employers in formulating and implementing best employment practices and policies to ensure compliance with California's ever-expanding employment laws.  Additionally, he has reviewed, revised, and created hundreds of employee handbooks, policies, arbitration agreements, and severance agreements.
Nazo has also successfully litigated and defended personal injury matters, products liability, premises liability, and governmental entity cases, including both bench and jury trials.
Nazo has successfully brought and defended motions for summary judgment, obtained dismissals, and favorably resolved high-exposure, multi-million dollar cases involving allegations of sexual harassment, wrongful termination, harassment, retaliation, and wage and hour claims. Mr. Koulloukian has also represented employers in matters before the Labor Commissioner, the Equal Employment Opportunity Commission and the Department of Fair Employment and Housing.
Nazo graduated magna cum laude from UCLA in 2005 with a Bachelors Degree in Communication Studies, where he served as the graduation commencement speaker. Thereafter, he graduated from the University of Maryland School of Law in 2008, where he participated in the Maryland Law Fall Moot Court Competition and was involved in the Civil Rights Clinic, where he submitted an amicus brief with the Maryland Court of Appeals. Among other things, Mr. Koulloukian was actively involved with the Maryland Law Katrina Project where law students donated their valuable vacation time to the rebuilding efforts of various Gulf Coast towns affected by Hurricane Katrina. Mr. Koulloukian has also served as an extern for the Honorable Judge Philip S. Gutierrez of the US District Court, Central District of California in 2007. He joined the California State Bar in 2009.
Nazo is also currently a longstanding member of the faculty for the UCLA Department of Communication Studies where he teaches "Propaganda and the Media," a spring undergraduate course where students examine the ideological nature of propaganda, the corporate structure of the media, and how propaganda is disseminated to control the media environment.